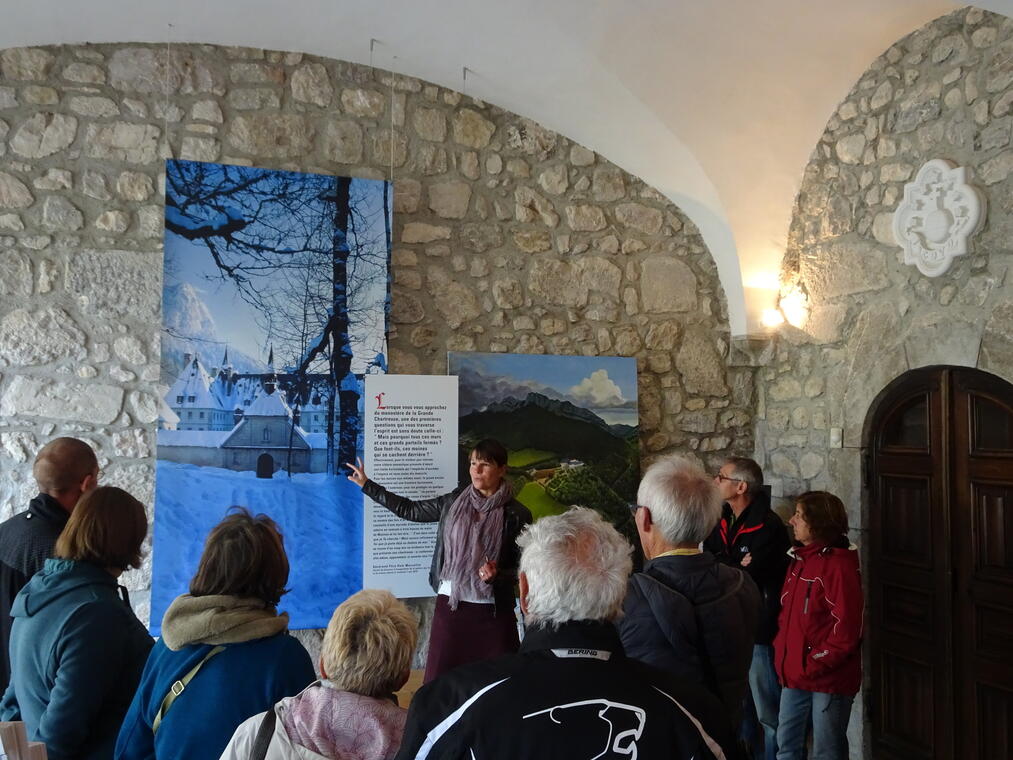 Visite guidée du Musée de la Grande Chartreuse
Cultural,
Guided tour,
Historic
in Saint-Pierre-de-Chartreuse
Accompanied by our guides, you will discover the life of the Carthusians. The visit will be punctuated with details and anecdotes of this life guided by Saint Bruno.

The Museum lends itself very well to this approach, which allows, in an exceptional setting, to better appreciate the history of the Carthusian monks, their know-how, their way of life. Visitors will be able to immerse themselves in their presence and find answers to their questions about the human and spiritual adventure of the monks.
Accessibility

Accessible for self-propelled wheelchairs
From

February 7, 2023

to

February 28, 2023
From

February 7, 2023




until

February 28, 2023
Tuesday

3:00 PM - 4:30 PM
En live

Lièvre

1 km

Opened

Lynx

1 km

Opened

Bouquetin

3 km

Opened

La bêcherie

9 km

Closed

Liaison col de porte - st hugues

8 km

Closed

Chamois

5 km

Opened

Route du charmant som

6 km

Opened

Boucle col de porte

3 km

Opened

Boucle des chaumes

1 km

Opened

Piste de luge - col de porte

Opened

Planibert

2 km

Closed

Les sagnes

2 km

Closed

Les combes

4 km

Closed

Saint eynard

9 km

Closed

Sire mouton

6 km

Closed

Pale de fer

9 km

Closed

L'ecoutoux

3 km

Closed

Liaison sappey - col de porte

6 km

Closed

Emeindras du dessus

8 km

Closed

Balcon de roche rousse

5 km

Closed

Monjalat

3 km

Closed

Mise à jour : 02 février 2023 - 16:40

Prairie des riondettes (piste bleue)

5 km

Opened

Piste rouge

8 km

Closed

Piste jaune

7 km

Closed

Prairie d'arpison (piste noire)

15 km

Closed

La pointe du frou (raquettes 1)

4 km

Opened

Col de la ruchère (raquettes 3)

9 km

Opened

Tour des riondettes (raquettes 2)

7 km

Opened

Belvédère d'arpizon (raquettes 4)

13 km

Opened

Mise à jour : 04 février 2023 - 10:02

Mise à jour : 03 février 2023 - 18:15
En live

Lièvre

1 km

Opened

Lynx

1 km

Opened

Bouquetin

3 km

Opened

La bêcherie

9 km

Closed

Liaison col de porte - st hugues

8 km

Closed

Chamois

5 km

Opened

Route du charmant som

6 km

Opened

Boucle col de porte

3 km

Opened

Boucle des chaumes

1 km

Opened

Piste de luge - col de porte

Opened

Planibert

2 km

Closed

Les sagnes

2 km

Closed

Les combes

4 km

Closed

Saint eynard

9 km

Closed

Sire mouton

6 km

Closed

Pale de fer

9 km

Closed

L'ecoutoux

3 km

Closed

Liaison sappey - col de porte

6 km

Closed

Emeindras du dessus

8 km

Closed

Balcon de roche rousse

5 km

Closed

Monjalat

3 km

Closed

Mise à jour : 02 février 2023 - 16:40

Prairie des riondettes (piste bleue)

5 km

Opened

Piste rouge

8 km

Closed

Piste jaune

7 km

Closed

Prairie d'arpison (piste noire)

15 km

Closed

La pointe du frou (raquettes 1)

4 km

Opened

Col de la ruchère (raquettes 3)

9 km

Opened

Tour des riondettes (raquettes 2)

7 km

Opened

Belvédère d'arpizon (raquettes 4)

13 km

Opened

Mise à jour : 04 février 2023 - 10:02

Mise à jour : 03 février 2023 - 18:15