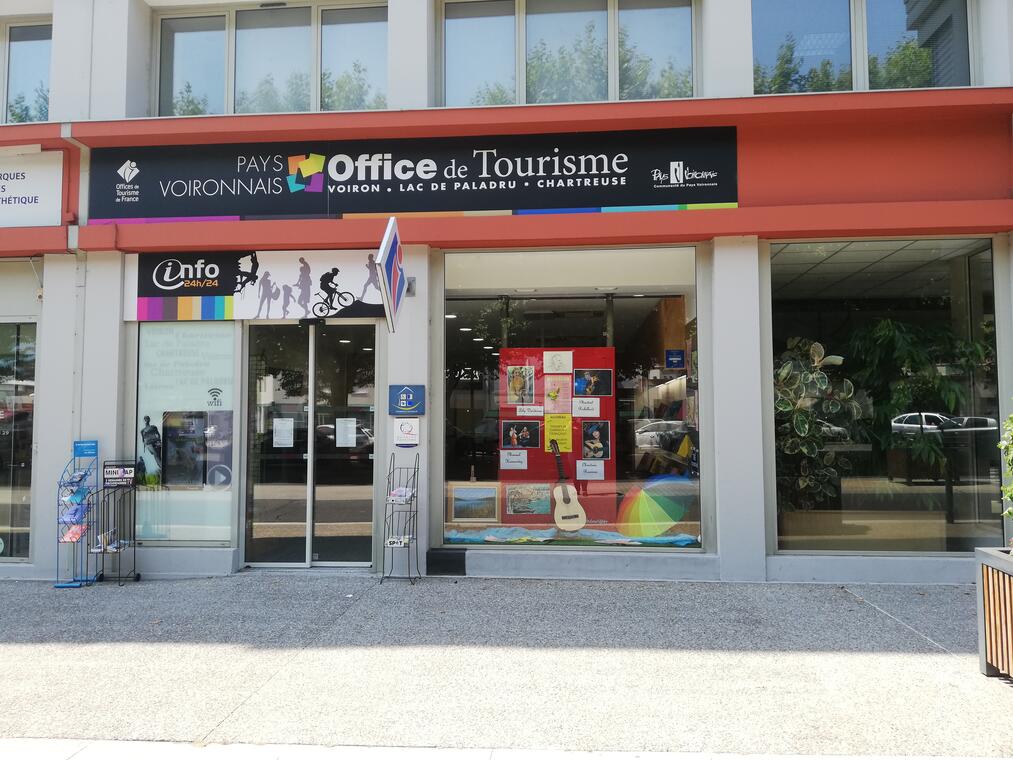 Pays Voironnais Tourist Office, Voiron information office
Tourism institutions,
Tourist Information Office,
Tourist Information Office (TIO)
in Voiron
The information office, located in the town centre, is open to welcome you from Tuesday to Saturday. Our tourist advisors will provide you with all the information about the local attractions and other useful information. Here you will also find an entertainment ticket office and various items available for purchase.
Environment

Close to a motorway

In centre of town

Town location

Station district

Close to a public transportation

Spoken languages
Accessibility

Accessible for self-propelled wheelchairs
Reserved space 330 cm wide < 100 m from the site
Even flooring with no obstacles
Absence of protrusions > 2 cm
Doors >=77 cm wide
Reception desk between 70-80 cm high
Site, building totally accessible
Facilities adapted for people with mobility impairment
Presence of pictograms and / or simplified visuals
Reception staff sensitized to the reception of people with disabilities

Equipment

Services

Pets welcome
Sale of fishing licences
From

January 3, 2023




until

March 31, 2023

From

April 1, 2023




until

September 30, 2023

From

October 2, 2023




until

December 30, 2023
Tuesday

9:00 AM - 12:30 PM

2:00 PM - 5:30 PM

Wednesday

9:00 AM - 12:30 PM

2:00 PM - 5:30 PM

Thursday

2:00 PM - 5:30 PM

Friday

9:00 AM - 12:30 PM

2:00 PM - 5:30 PM

Saturday

9:00 AM - 12:30 PM

2:00 PM - 5:30 PM
Tuesday

9:00 AM - 12:30 PM

2:00 PM - 5:30 PM

Wednesday

9:00 AM - 12:30 PM

2:00 PM - 5:30 PM

Thursday

9:00 AM - 12:30 PM

2:00 PM - 5:30 PM

Friday

9:00 AM - 12:30 PM

2:00 PM - 5:30 PM

Saturday

9:00 AM - 12:30 PM

2:00 PM - 5:30 PM
Tuesday

9:00 AM - 12:30 PM

2:00 PM - 5:30 PM

Wednesday

9:00 AM - 12:30 PM

2:00 PM - 5:30 PM

Thursday

2:00 PM - 5:30 PM

Friday

9:00 AM - 12:30 PM

2:00 PM - 5:30 PM

Saturday

9:00 AM - 12:30 PM

2:00 PM - 5:30 PM
En live

Les pres

3 km

Closed

La pointiere

4 km

Closed

Eterlou

2 km

Closed

Piste de liaison

Closed

Les marots

3 km

Closed

Outheran

6 km

Closed

Montfred

13 km

Closed

ChevÊche

2 km

Closed

Pipistrelle

1 km

Closed

Ourson

Closed

Mise à jour : 13 mars 2023 - 17:42

Bouquetin

3 km

Closed

La bêcherie

9 km

Closed

Liaison col de porte - st hugues

8 km

Closed

Chamois

5 km

Closed

Route du charmant som

6 km

Closed

Lièvre

1 km

Closed

Lynx

1 km

Closed

Les combes

4 km

Closed

Saint eynard

9 km

Closed

Sire mouton

6 km

Closed

Pale de fer

9 km

Closed

Planibert

2 km

Closed

Les sagnes

2 km

Closed

Cherlieu

6 km

Closed

Le buissonnet

9 km

Closed

Liaison st hugues - l'emeindras

16 km

Closed

Liaison st hugues - col de porte

7 km

Closed

La perelle

10 km

Closed

Le vivier

2 km

Closed

Stade de neige

1 km

Closed

Mise à jour : 26 juin 2023 - 15:15

Prairie des riondettes (piste bleue)

5 km

Closed

Piste rouge

8 km

Closed

Piste jaune

7 km

Closed

Prairie d'arpison (piste noire)

15 km

Closed

Mise à jour : 12 septembre 2023 - 12:06

Mise à jour : 09 mars 2023 - 18:45