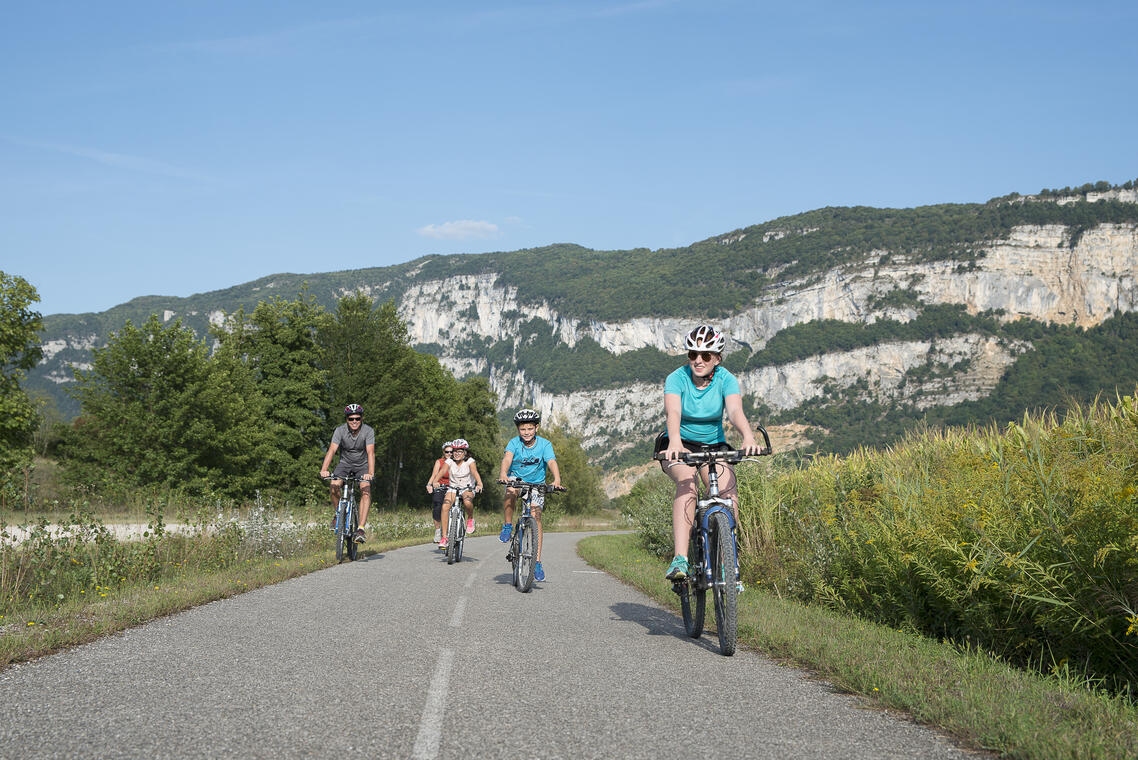 Mountain biking/touring biking: escorted rides
Accompanied,
Lesson,
Equipment hire,
Multiactivities,
Touring,
Course,
All inclusive,
Group lesson,
Individual lesson,
Beginners' course,
Improvers' course,
Cycle sports,
Cycle touring,
Mountain biking,
Electric-assisted bike,
Electric-assisted mountain bike
in Nances
Come and ride mountain or electric bikes in the surrounding countrysides and mountains.

For groups of at least 8 people: follow a monitor and discover the territory through hikes more or less physical. We have a large range of equipments at our disposal: hybrik bikes, mountain bikes, electric mountain bikes, road bikes...
Environment

In the country

Lakeside or by stretch of water

Forest location

Spoken languages
Openings

From

April 1, 2023

until

November 1, 2023
En live

Eterlou

2 km

Opened

Piste de liaison

Opened

Les pres

3 km

Opened

La pointiere

4 km

Opened

Ourson

Closed

ChevÊche

2 km

Closed

Pipistrelle

1 km

Closed

Les marots

3 km

Closed

Les plaines

3 km

Closed

Outheran

6 km

Closed

Montfred

13 km

Closed

Raquettes - désert d'entremont

Ourson

Opened

Col du mollard

Opened

La pointiere

Opened

Pointe de la cochette

Opened

Grand carroz

Opened

Piste de luge bruyeres

Opened

Piste de luge mollard

Opened

Mise à jour : 18 janvier 2023 - 10:50

Lièvre

1 km

Opened

Lynx

1 km

Opened

Bouquetin

3 km

Opened

La bêcherie

9 km

Closed

Liaison col de porte - st hugues

8 km

Closed

Chamois

5 km

Opened

Route du charmant som

6 km

Opened

Boucle col de porte

3 km

Opened

Boucle des chaumes

1 km

Opened

Piste de luge - col de porte

Opened

Planibert

2 km

Closed

Les sagnes

2 km

Closed

Les combes

4 km

Closed

Saint eynard

9 km

Closed

Sire mouton

6 km

Closed

Pale de fer

9 km

Closed

L'ecoutoux

3 km

Closed

Liaison sappey - col de porte

6 km

Closed

Emeindras du dessus

8 km

Closed

Balcon de roche rousse

5 km

Closed

Monjalat

3 km

Closed

Mise à jour : 02 février 2023 - 16:40

Prairie des riondettes (piste bleue)

5 km

Opened

Piste rouge

8 km

Closed

Piste jaune

7 km

Closed

Prairie d'arpison (piste noire)

15 km

Closed

La pointe du frou (raquettes 1)

4 km

Opened

Col de la ruchère (raquettes 3)

9 km

Opened

Tour des riondettes (raquettes 2)

7 km

Opened

Belvédère d'arpizon (raquettes 4)

13 km

Opened

Mise à jour : 02 février 2023 - 11:33

Mise à jour : 13 janvier 2023 - 10:36
En live

Eterlou

2 km

Opened

Piste de liaison

Opened

Les pres

3 km

Opened

La pointiere

4 km

Opened

Ourson

Closed

ChevÊche

2 km

Closed

Pipistrelle

1 km

Closed

Les marots

3 km

Closed

Les plaines

3 km

Closed

Outheran

6 km

Closed

Montfred

13 km

Closed

Raquettes - désert d'entremont

Ourson

Opened

Col du mollard

Opened

La pointiere

Opened

Pointe de la cochette

Opened

Grand carroz

Opened

Piste de luge bruyeres

Opened

Piste de luge mollard

Opened

Mise à jour : 18 janvier 2023 - 10:50

Lièvre

1 km

Opened

Lynx

1 km

Opened

Bouquetin

3 km

Opened

La bêcherie

9 km

Closed

Liaison col de porte - st hugues

8 km

Closed

Chamois

5 km

Opened

Route du charmant som

6 km

Opened

Boucle col de porte

3 km

Opened

Boucle des chaumes

1 km

Opened

Piste de luge - col de porte

Opened

Planibert

2 km

Closed

Les sagnes

2 km

Closed

Les combes

4 km

Closed

Saint eynard

9 km

Closed

Sire mouton

6 km

Closed

Pale de fer

9 km

Closed

L'ecoutoux

3 km

Closed

Liaison sappey - col de porte

6 km

Closed

Emeindras du dessus

8 km

Closed

Balcon de roche rousse

5 km

Closed

Monjalat

3 km

Closed

Mise à jour : 02 février 2023 - 16:40

Prairie des riondettes (piste bleue)

5 km

Opened

Piste rouge

8 km

Closed

Piste jaune

7 km

Closed

Prairie d'arpison (piste noire)

15 km

Closed

La pointe du frou (raquettes 1)

4 km

Opened

Col de la ruchère (raquettes 3)

9 km

Opened

Tour des riondettes (raquettes 2)

7 km

Opened

Belvédère d'arpizon (raquettes 4)

13 km

Opened

Mise à jour : 02 février 2023 - 11:33

Mise à jour : 13 janvier 2023 - 10:36