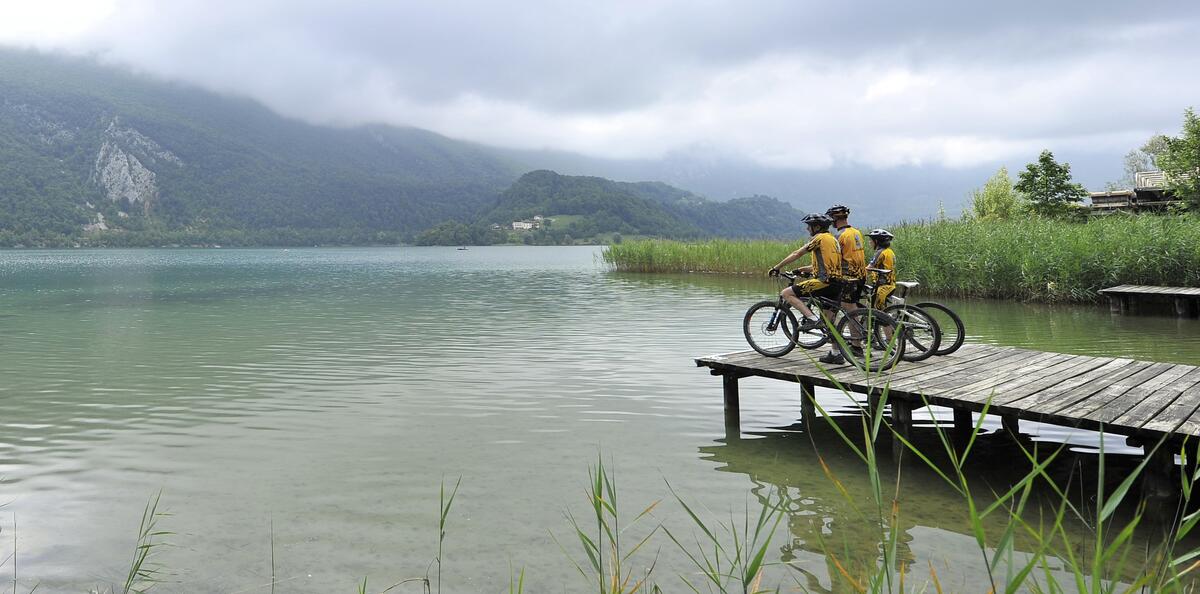 Mountain biking route 8 – On the route of La Chartreuse
Sport,
Cycling sports,
Mountain biking itinerary
in Nances
Very difficult level. There are several difficult passage on the uphill route, so a good level of fitness is required.

After the ascent of Col de la Crusille via Nances and Novalaise, you will cross the Banchet mountains from the forest before a not so technical descent towards la Bridoire. The circuit then goes in Chartreuse with the GR9 (Gruat ascent) and on the foothills of Mont Grêle on the road leading to la Pissoire.
A long and hard slope that is followed by a softer forest route. Final descent on Aiguebelette-le-Lac before going back to Lépin-le-Lac and the west side of the lake.
Difference in height

1521 m

Documentation

GPX / KML files allow you to export the trail of your hike to your GPS (or other navigation tool)
1521 meters of difference in height

Maximum altitude :

971 m

Minimum altitude :

266 m

Total positive elevation :

1521 m

Total negative elevation :

-1521 m

Max positive elevation :

292 m

Min positive elevation :

-264 m
En live

Les pres

3 km

Closed

La pointiere

4 km

Closed

Eterlou

2 km

Closed

Piste de liaison

Closed

Les marots

3 km

Closed

Outheran

6 km

Closed

Montfred

13 km

Closed

ChevÊche

2 km

Closed

Pipistrelle

1 km

Closed

Ourson

Closed

Mise à jour : 13 mars 2023 - 17:42

Bouquetin

3 km

Closed

La bêcherie

9 km

Closed

Liaison col de porte - st hugues

8 km

Closed

Chamois

5 km

Closed

Route du charmant som

6 km

Closed

Lièvre

1 km

Closed

Lynx

1 km

Closed

Les combes

4 km

Closed

Saint eynard

9 km

Closed

Sire mouton

6 km

Closed

Pale de fer

9 km

Closed

Planibert

2 km

Closed

Les sagnes

2 km

Closed

Cherlieu

6 km

Closed

Le buissonnet

9 km

Closed

Liaison st hugues - l'emeindras

16 km

Closed

Liaison st hugues - col de porte

7 km

Closed

La perelle

10 km

Closed

Le vivier

2 km

Closed

Stade de neige

1 km

Closed

Mise à jour : 26 juin 2023 - 15:15

Prairie des riondettes (piste bleue)

5 km

Closed

Piste rouge

8 km

Closed

Piste jaune

7 km

Closed

Prairie d'arpison (piste noire)

15 km

Closed

Mise à jour : 19 février 2023 - 09:09

Mise à jour : 09 mars 2023 - 18:45