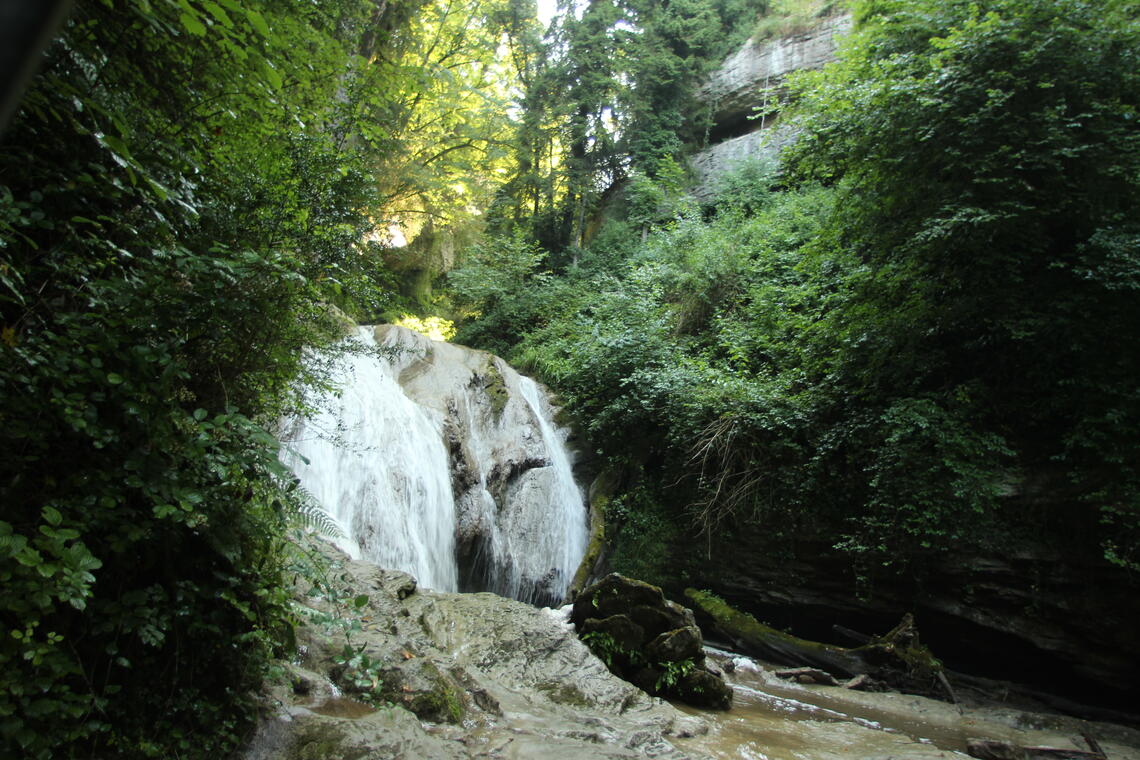 Le Grenand gorges and canyon
Gorge,
Canyon
in Attignat-Oncin
The Grenand canyon is a short distance from the lake and known as one of the most beautiful canyons in Savoie. Possible to get there on foot or to do canyoning.

"La combe du Grenand" path, starting from La Bridoire, will take people on a journey to discover fluvial erosion, gorges and waterfalls. This small loop of 2.5 km is equipped with educating kiosks in order to discover the work of water.
People can do some canyoning if they like thrilling sensations while discovering the river with its waterfalls, slides and gorges.
Environment

In the country

Riverside

Forest location

Lake 5 km away
Openings

From

March 11, 2023

until

November 11, 2023
En live

Les pres

3 km

Closed

La pointiere

4 km

Closed

Eterlou

2 km

Closed

Piste de liaison

Closed

Les marots

3 km

Closed

Outheran

6 km

Closed

Montfred

13 km

Closed

ChevÊche

2 km

Closed

Pipistrelle

1 km

Closed

Ourson

Closed

Mise à jour : 30 novembre 2023 - 16:15

Bouquetin

3 km

Closed

La bêcherie

9 km

Closed

Liaison col de porte - st hugues

8 km

Closed

Chamois

5 km

Closed

Route du charmant som

6 km

Closed

Lièvre

1 km

Closed

Lynx

1 km

Closed

Les combes

4 km

Closed

Saint eynard

9 km

Closed

Sire mouton

6 km

Closed

Pale de fer

9 km

Closed

Planibert

2 km

Closed

Les sagnes

2 km

Closed

Cherlieu

6 km

Closed

Le buissonnet

9 km

Closed

Liaison st hugues - l'emeindras

16 km

Closed

Liaison st hugues - col de porte

7 km

Closed

La perelle

10 km

Closed

Le vivier

2 km

Closed

Stade de neige

1 km

Closed

Mise à jour : 26 juin 2023 - 15:15

Prairie des riondettes (piste bleue)

5 km

Closed

Piste rouge

8 km

Closed

Piste jaune

7 km

Closed

Prairie d'arpison (piste noire)

15 km

Closed

Mise à jour : 12 septembre 2023 - 12:06

Mise à jour : 09 mars 2023 - 18:45