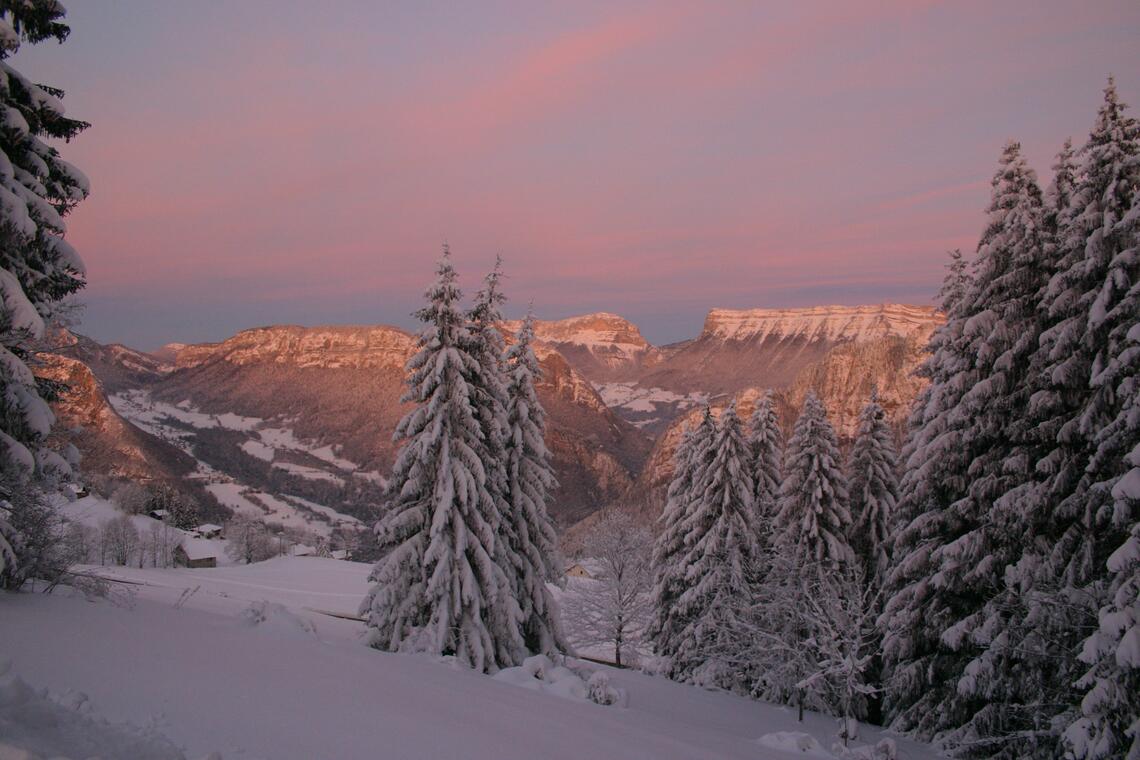 Le Col de la Ruchère
Sport,
Winter sports,
Snowshoe itinerary
in Saint-Christophe-sur-Guiers
Starting from the Nordic site of La Ruchère (between St Pierre d'Entremont and St Christophe sur Guiers), a secret, intimate route with views of the summits not to be missed. At the Col de la Ruchère you can admire Chamechaude, the Grand and Petit Som.

From the Nordic site of la Ruchère, by pass the building by the right side to enter the forest. When you will reach the Col de la Ruchère, admire the le Petit Som, le Grand Som et Chamechaude, the highest peak of Chartreuse. For the way back, follow the same path before turning right at Pré Geryet. You pass near a Habert ( a house for shepherd during summer time) before meeting Granges Molyat and turning left to come back to the Nordic site.
Departure

Saint-Christophe-sur-Guiers

Difference in height

326 m

Plain text period

From 01/12 to 31/03.

Subject to favorable weather.

Environment

Mountain view

Mountain location

Spoken languages

Documentation

GPX / KML files allow you to export the trail of your hike to your GPS (or other navigation tool)
326 meters of difference in height

Maximum altitude :

1455 m

Minimum altitude :

1115 m

Total positive elevation :

326 m

Total negative elevation :

-326 m

Max positive elevation :

275 m

Min positive elevation :

-310 m
En live

Les pres

3 km

Closed

La pointiere

4 km

Closed

Eterlou

2 km

Closed

Piste de liaison

Closed

Les marots

3 km

Closed

Outheran

6 km

Closed

Montfred

13 km

Closed

ChevÊche

2 km

Closed

Pipistrelle

1 km

Closed

Ourson

Closed

Mise à jour : 13 mars 2023 - 17:42

Bouquetin

3 km

Closed

La bêcherie

9 km

Closed

Liaison col de porte - st hugues

8 km

Closed

Chamois

5 km

Closed

Route du charmant som

6 km

Closed

Lièvre

1 km

Closed

Lynx

1 km

Closed

Les combes

4 km

Closed

Saint eynard

9 km

Closed

Sire mouton

6 km

Closed

Pale de fer

9 km

Closed

Planibert

2 km

Closed

Les sagnes

2 km

Closed

Cherlieu

6 km

Closed

Le buissonnet

9 km

Closed

Liaison st hugues - l'emeindras

16 km

Closed

Liaison st hugues - col de porte

7 km

Closed

La perelle

10 km

Closed

Le vivier

2 km

Closed

Stade de neige

1 km

Closed

Mise à jour : 26 juin 2023 - 15:15

Prairie des riondettes (piste bleue)

5 km

Closed

Piste rouge

8 km

Closed

Piste jaune

7 km

Closed

Prairie d'arpison (piste noire)

15 km

Closed

Mise à jour : 12 septembre 2023 - 12:06

Mise à jour : 09 mars 2023 - 18:45