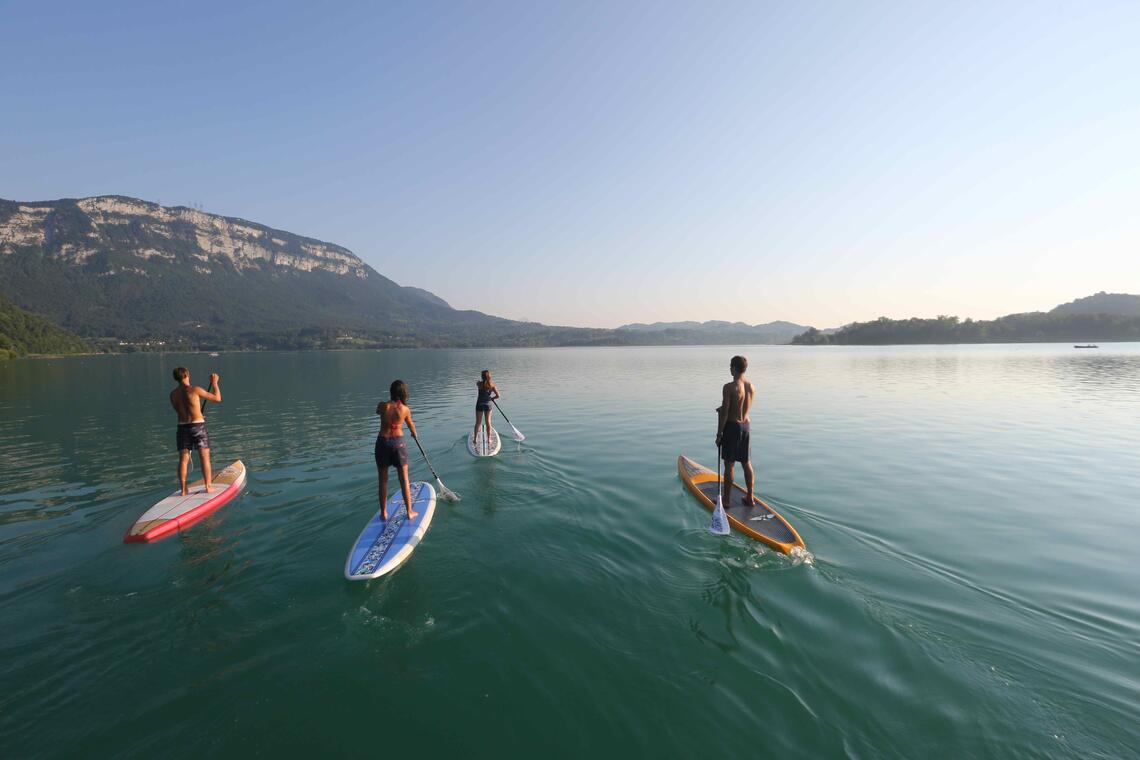 Lac d'Aiguebelette paddle boarding
Water sports,
Boat trips,
Stand up paddle
in Nances
A different way of gliding on Lac d'Aiguebelette, accessible for everyone...

An out of the ordinary sailing to discover the lake and its wild banks if practiced in a relaxed way.
A new way of dynamic and rhythmed slide if practiced in a physical and fitness way.
We have a large range of adapted boards at our disposal to be used in various ways and giving people the opportunity to improve.
We also offer junior boards, tandem boards and fat paddles that can welcome 4 to 8 people.
Private lessons and group supervisions: check with us.
Openings

From

April 1, 2023

until

November 1, 2023
En live

Les pres

3 km

Closed

La pointiere

4 km

Closed

Eterlou

2 km

Closed

Piste de liaison

Closed

Les marots

3 km

Closed

Outheran

6 km

Closed

Montfred

13 km

Closed

ChevÊche

2 km

Closed

Pipistrelle

1 km

Closed

Ourson

Closed

Mise à jour : 13 mars 2023 - 17:42

Bouquetin

3 km

Closed

La bêcherie

9 km

Closed

Liaison col de porte - st hugues

8 km

Closed

Chamois

5 km

Closed

Route du charmant som

6 km

Closed

Lièvre

1 km

Closed

Lynx

1 km

Closed

Les combes

4 km

Closed

Saint eynard

9 km

Closed

Sire mouton

6 km

Closed

Pale de fer

9 km

Closed

Planibert

2 km

Closed

Les sagnes

2 km

Closed

Cherlieu

6 km

Closed

Le buissonnet

9 km

Closed

Liaison st hugues - l'emeindras

16 km

Closed

Liaison st hugues - col de porte

7 km

Closed

La perelle

10 km

Closed

Le vivier

2 km

Closed

Stade de neige

1 km

Closed

Mise à jour : 26 juin 2023 - 15:15

Prairie des riondettes (piste bleue)

5 km

Closed

Piste rouge

8 km

Closed

Piste jaune

7 km

Closed

Prairie d'arpison (piste noire)

15 km

Closed

Mise à jour : 19 février 2023 - 09:09

Mise à jour : 09 mars 2023 - 18:45