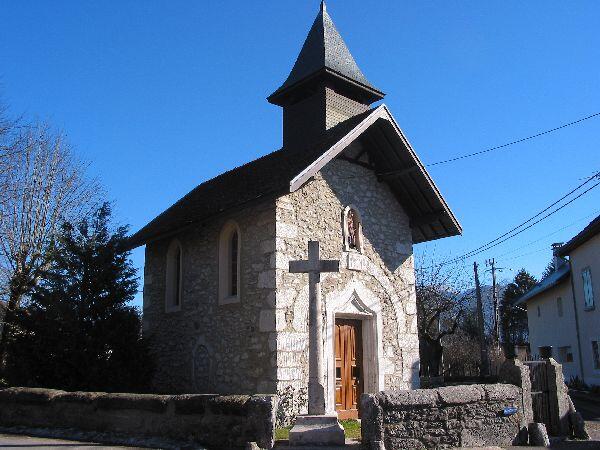 La Chapelle St Roch
Historic site and monument,
Religious heritage,
listed
in Miribel-les-Échelles
It was named after St Roch (1293-1327) who was the son of a notorious family of Lords from Montpellier. Today's Castries are descended from this family. St Roch dedicated his life to look afet suffering from leprosy.
Environment

Spoken languages
En live

Piste de luge bruyeres

Opened

Piste de luge mollard

Opened

Eterlou

2 km

Opened

Piste de liaison

Opened

Les pres

3 km

Opened

La pointiere

4 km

Opened

ChevÊche

2 km

Closed

Pipistrelle

1 km

Closed

Ourson

Closed

Les marots

3 km

Closed

Outheran

6 km

Closed

Montfred

13 km

Closed

Fil-neige

Opened

Les nantets

Opened

Les bruyeres

Opened

La julienne

Closed

Raquettes - désert d'entremont

Ourson

Opened

Col du mollard

Opened

La pointiere

Opened

Grand carroz

Opened

Pointe de la cochette

Opened

Mise à jour : 07 février 2023 - 09:18

Lièvre

1 km

Opened

Lynx

1 km

Opened

Bouquetin

3 km

Opened

La bêcherie

9 km

Closed

Liaison col de porte - st hugues

8 km

Closed

Chamois

5 km

Opened

Route du charmant som

6 km

Opened

Boucle col de porte

3 km

Opened

Boucle des chaumes

1 km

Opened

Piste de luge - col de porte

Opened

Planibert

2 km

Closed

Les sagnes

2 km

Closed

Les combes

4 km

Closed

Saint eynard

9 km

Closed

Sire mouton

6 km

Closed

Pale de fer

9 km

Closed

L'ecoutoux

3 km

Closed

Liaison sappey - col de porte

6 km

Closed

Emeindras du dessus

8 km

Closed

Balcon de roche rousse

5 km

Closed

Monjalat

3 km

Closed

Mise à jour : 02 février 2023 - 16:40

Prairie des riondettes (piste bleue)

5 km

Opened

Piste rouge

8 km

Closed

Piste jaune

7 km

Closed

Prairie d'arpison (piste noire)

15 km

Closed

La pointe du frou (raquettes 1)

4 km

Opened

Col de la ruchère (raquettes 3)

9 km

Opened

Tour des riondettes (raquettes 2)

7 km

Opened

Belvédère d'arpizon (raquettes 4)

13 km

Opened

Mise à jour : 07 février 2023 - 08:55

Mise à jour : 03 février 2023 - 18:15
En live

Piste de luge bruyeres

Opened

Piste de luge mollard

Opened

Eterlou

2 km

Opened

Piste de liaison

Opened

Les pres

3 km

Opened

La pointiere

4 km

Opened

ChevÊche

2 km

Closed

Pipistrelle

1 km

Closed

Ourson

Closed

Les marots

3 km

Closed

Outheran

6 km

Closed

Montfred

13 km

Closed

Fil-neige

Opened

Les nantets

Opened

Les bruyeres

Opened

La julienne

Closed

Raquettes - désert d'entremont

Ourson

Opened

Col du mollard

Opened

La pointiere

Opened

Grand carroz

Opened

Pointe de la cochette

Opened

Mise à jour : 07 février 2023 - 09:18

Lièvre

1 km

Opened

Lynx

1 km

Opened

Bouquetin

3 km

Opened

La bêcherie

9 km

Closed

Liaison col de porte - st hugues

8 km

Closed

Chamois

5 km

Opened

Route du charmant som

6 km

Opened

Boucle col de porte

3 km

Opened

Boucle des chaumes

1 km

Opened

Piste de luge - col de porte

Opened

Planibert

2 km

Closed

Les sagnes

2 km

Closed

Les combes

4 km

Closed

Saint eynard

9 km

Closed

Sire mouton

6 km

Closed

Pale de fer

9 km

Closed

L'ecoutoux

3 km

Closed

Liaison sappey - col de porte

6 km

Closed

Emeindras du dessus

8 km

Closed

Balcon de roche rousse

5 km

Closed

Monjalat

3 km

Closed

Mise à jour : 02 février 2023 - 16:40

Prairie des riondettes (piste bleue)

5 km

Opened

Piste rouge

8 km

Closed

Piste jaune

7 km

Closed

Prairie d'arpison (piste noire)

15 km

Closed

La pointe du frou (raquettes 1)

4 km

Opened

Col de la ruchère (raquettes 3)

9 km

Opened

Tour des riondettes (raquettes 2)

7 km

Opened

Belvédère d'arpizon (raquettes 4)

13 km

Opened

Mise à jour : 07 février 2023 - 08:55

Mise à jour : 03 février 2023 - 18:15