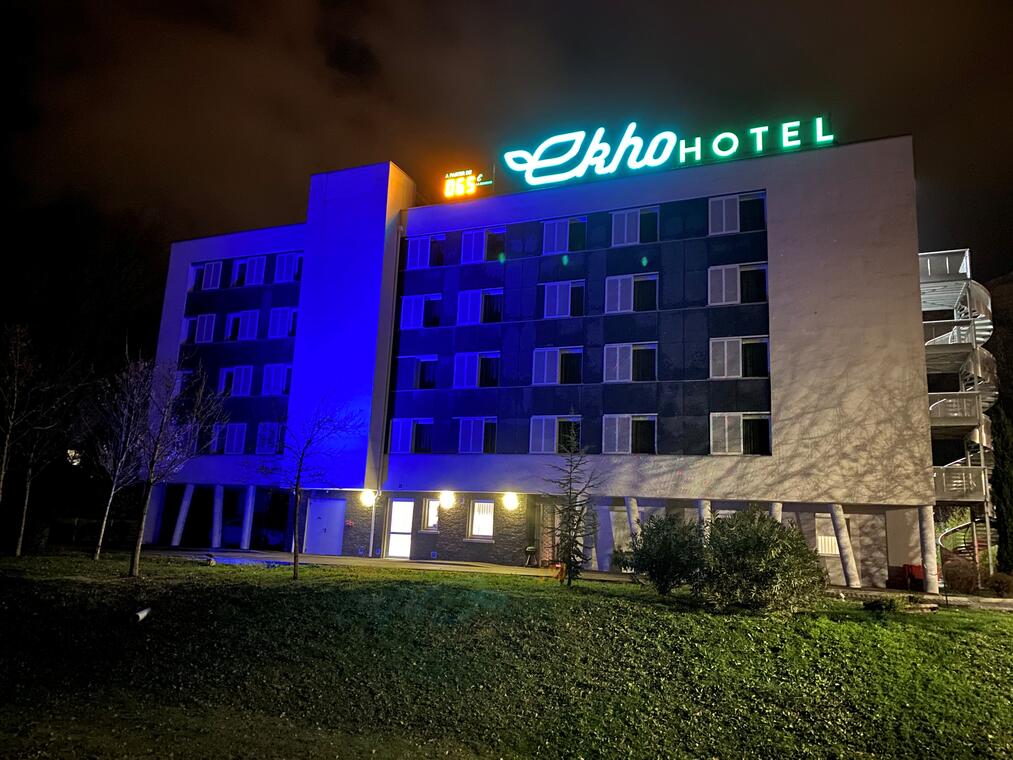 The Hôtel EKHO welcomes you all year long. Ideally located, The Hôtel EKHO is open 24 hours on 24. It has at your disposal, for your reservations, an automatic payment by credit card. It delivers an opening code available day and night.

The Hôtel EKHO is located in the heart of the main business area of Grenoble/Saint-Egreve (where everything happens). Close to many local points of interest such as the Grenoble Bastille cable car, the museum Hebert, the ski resorts of Belledonne mountain range, etc ...
Numerous interests and activities (shops and businesses), recreation, restaurants (all major brands are represented) are located a few metres from the hotel.
Capacity

People :

184 Person(s)

Bedrooms :

72 Bedroom(s)

Spoken languages
Accessibility

Accessible for self-propelled wheelchairs

Amenities

Equipment

Air conditioning
Car park

Services
Openings

All year 2023

* Reception with personalized welcome: Monday , Tuesday , Wednesday , Thursday: 6:30am to 11:30am and 4pm to 9pm Friday: 6.30am to 11.30am and 5pm to 9pm Weekends and public holidays: 7.45am to 11.30am and 5pm to 9pm
En live

Les pres

3 km

Closed

La pointiere

4 km

Closed

Eterlou

2 km

Closed

Piste de liaison

Closed

Les marots

3 km

Closed

Outheran

6 km

Closed

Montfred

13 km

Closed

ChevÊche

2 km

Closed

Pipistrelle

1 km

Closed

Ourson

Closed

Mise à jour : 13 mars 2023 - 17:42

Bouquetin

3 km

Closed

La bêcherie

9 km

Closed

Liaison col de porte - st hugues

8 km

Closed

Chamois

5 km

Closed

Route du charmant som

6 km

Closed

Lièvre

1 km

Closed

Lynx

1 km

Closed

Les combes

4 km

Closed

Saint eynard

9 km

Closed

Sire mouton

6 km

Closed

Pale de fer

9 km

Closed

Planibert

2 km

Closed

Les sagnes

2 km

Closed

Cherlieu

6 km

Closed

Le buissonnet

9 km

Closed

Liaison st hugues - l'emeindras

16 km

Closed

Liaison st hugues - col de porte

7 km

Closed

La perelle

10 km

Closed

Le vivier

2 km

Closed

Stade de neige

1 km

Closed

Mise à jour : 26 juin 2023 - 15:15

Prairie des riondettes (piste bleue)

5 km

Closed

Piste rouge

8 km

Closed

Piste jaune

7 km

Closed

Prairie d'arpison (piste noire)

15 km

Closed

Mise à jour : 12 septembre 2023 - 12:06

Mise à jour : 09 mars 2023 - 18:45