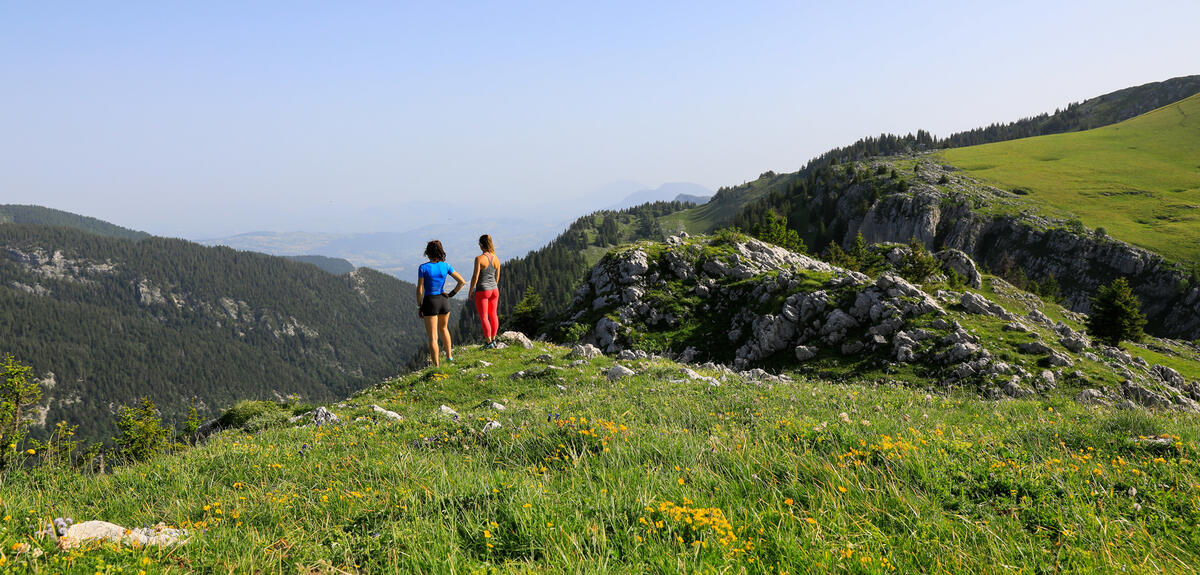 Col de Porte - La Boucle des 3 Villages
Sport,
Pedestrian sports,
Trail route
in Sarcenas
The itinerary starts on the same path as its easy and intermediate variants but, from Le Crêt, you'll descend to Maubuisson, then to the Château at Quaix-en-Chartreuse.

Take your fill of drinking water in the village before climbing the Pont de Vence.
Save some breath to rejoin the blue trail at Le Fa.
There are two there-and-back variants: one to La Pinéa and another to l'Ecoutoux from the Brens pass, to enjoy a magnificent view from the top.

The calculation of the difficulty of each course takes into account the length, the positive vertical drop, the greatest continuous positive or negative vertical drop as well as the technicality of the terrain.
Difference in height

1163 m

The starting point is : from the Prairie du Col de Porte
(signpost at the start of the Charmant Som road)
Beaconing

Plain text period

All year round.

Environment

Spoken languages

Documentation

GPX / KML files allow you to export the trail of your hike to your GPS (or other navigation tool)
1163 meters of difference in height

Maximum altitude :

1530 m

Minimum altitude :

472 m

Total positive elevation :

1163 m

Total negative elevation :

-1163 m

Max positive elevation :

634 m

Min positive elevation :

-459 m
En live

Eterlou

2 km

Closed

Piste de liaison

Closed

Les pres

3 km

Closed

La pointiere

4 km

Closed

ChevÊche

2 km

Closed

Pipistrelle

1 km

Closed

Ourson

Closed

Les marots

3 km

Closed

Outheran

6 km

Closed

Montfred

13 km

Closed

Mise à jour : 13 mars 2023 - 17:42

Lièvre

1 km

Closed

Lynx

1 km

Closed

Bouquetin

3 km

Closed

La bêcherie

9 km

Closed

Liaison col de porte - st hugues

8 km

Closed

Chamois

5 km

Closed

Route du charmant som

6 km

Closed

Planibert

2 km

Closed

Les sagnes

2 km

Closed

Les combes

4 km

Closed

Saint eynard

9 km

Closed

Sire mouton

6 km

Closed

Pale de fer

9 km

Closed

Le vivier

2 km

Closed

Stade de neige

1 km

Closed

Cherlieu

6 km

Closed

Le buissonnet

9 km

Closed

Liaison st hugues - l'emeindras

16 km

Closed

Liaison st hugues - col de porte

7 km

Closed

La perelle

10 km

Closed

Mise à jour : 03 avril 2023 - 15:22

Prairie des riondettes (piste bleue)

5 km

Closed

Piste rouge

8 km

Closed

Piste jaune

7 km

Closed

Prairie d'arpison (piste noire)

15 km

Closed

Mise à jour : 19 février 2023 - 09:09

Mise à jour : 09 mars 2023 - 18:45