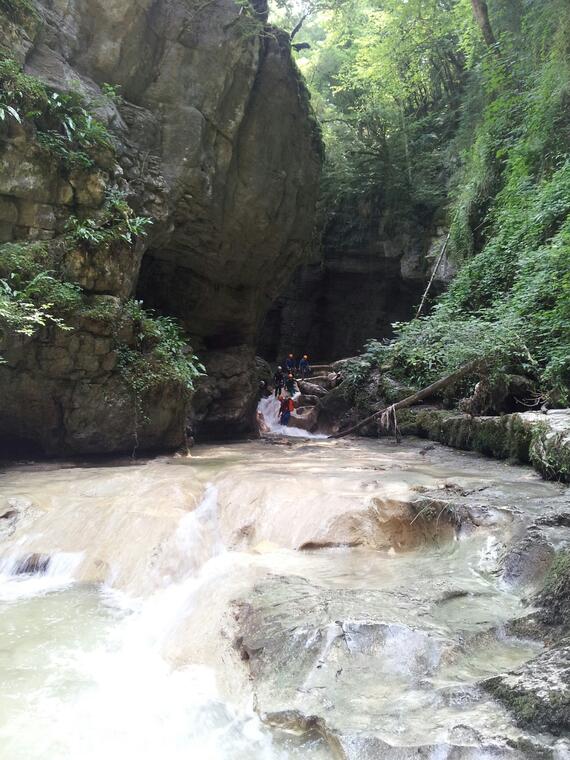 Canyoning in the Grenand
Sport,
Rock climbing site,
Canyoning site
in Attignat-Oncin
An exhilarating, fun sport that takes place in the waterfalls and rivers of the region. The Grenand canyon, just a short distance from the lake, is renowned as one of the most beautiful canyons in Savoie.

Dive in full nature on your own (for experts) or monitored by a qualified team, in total safety...
Environment

Lake 5 km away

Village 2 km away
Openings

From

April 1, 2023

until

September 30, 2023
En live

Eterlou

2 km

Closed

Piste de liaison

Closed

Les pres

3 km

Closed

La pointiere

4 km

Closed

ChevÊche

2 km

Closed

Pipistrelle

1 km

Closed

Ourson

Closed

Les marots

3 km

Closed

Outheran

6 km

Closed

Montfred

13 km

Closed

Mise à jour : 13 mars 2023 - 17:42

Lièvre

1 km

Closed

Lynx

1 km

Closed

Bouquetin

3 km

Closed

La bêcherie

9 km

Closed

Liaison col de porte - st hugues

8 km

Closed

Chamois

5 km

Closed

Route du charmant som

6 km

Closed

Planibert

2 km

Closed

Les sagnes

2 km

Closed

Les combes

4 km

Closed

Saint eynard

9 km

Closed

Sire mouton

6 km

Closed

Pale de fer

9 km

Closed

Le vivier

2 km

Closed

Stade de neige

1 km

Closed

Cherlieu

6 km

Closed

Le buissonnet

9 km

Closed

Liaison st hugues - l'emeindras

16 km

Closed

Liaison st hugues - col de porte

7 km

Closed

La perelle

10 km

Closed

Mise à jour : 03 avril 2023 - 15:22

Prairie des riondettes (piste bleue)

5 km

Closed

Piste rouge

8 km

Closed

Piste jaune

7 km

Closed

Prairie d'arpison (piste noire)

15 km

Closed

Mise à jour : 19 février 2023 - 09:09

Mise à jour : 09 mars 2023 - 18:45