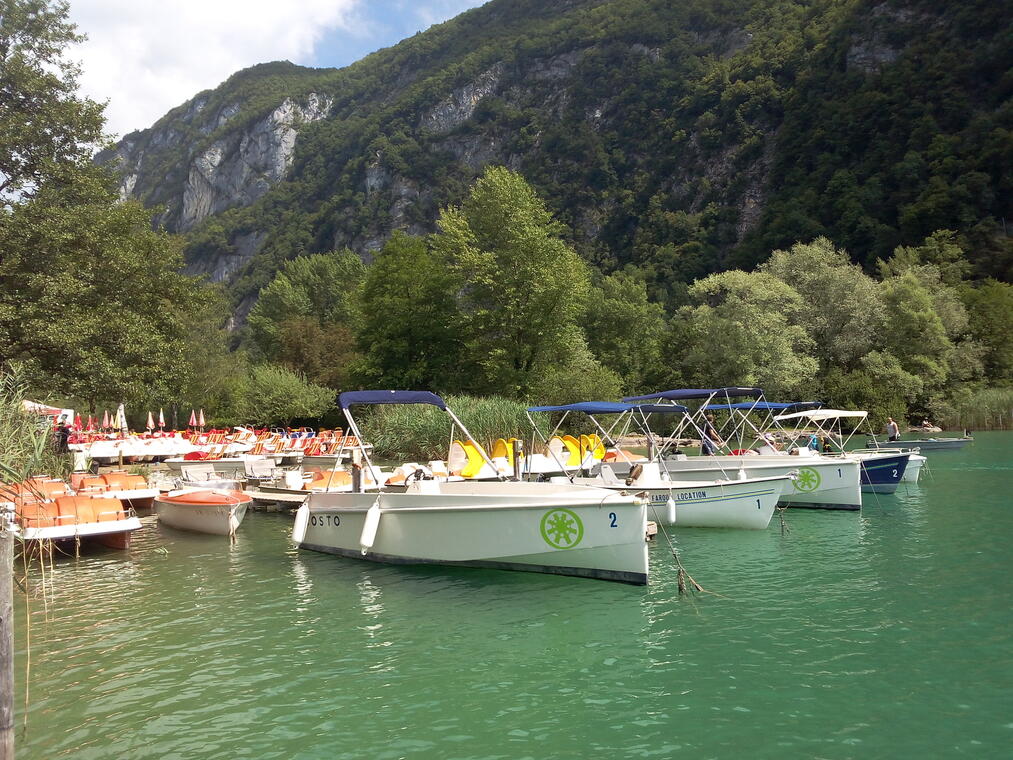 Boat hire: Le Farou
Shops,
Equipment hire,
Rental of small watercraft
in Nances
Located towards the motorway exit at Nances, Le Farou boasts a shady site from where you can hire a motor boat, electrically-powered boat, canoe or pedalo (with slide or diving board). Café selling snacks gives you the chance to have a quick bite to eat at the water's edge.

Motorcycles parking lot.
Environment

Close to a motorway

Lakeside or by stretch of water

Spoken languages
Accessibility

Accessible for wheelchairs with assistance
Accessible for self-propelled wheelchairs

Services
From

June 1, 2023




until

September 5, 2023
Monday

10:30 AM - 7:00 PM

Tuesday

10:30 AM - 7:00 PM

Wednesday

10:30 AM - 7:00 PM

Thursday

10:30 AM - 7:00 PM

Friday

10:30 AM - 7:00 PM

Saturday

10:30 AM - 7:00 PM

Sunday

10:30 AM - 7:00 PM
En live

Piste de luge bruyeres

Closed

Piste de luge mollard

Closed

Eterlou

2 km

Closed

Piste de liaison

Closed

Les pres

3 km

Closed

La pointiere

4 km

Closed

ChevÊche

2 km

Closed

Pipistrelle

1 km

Closed

Ourson

Closed

Les marots

3 km

Closed

Outheran

6 km

Closed

Montfred

13 km

Closed

Fil-neige

Closed

Les nantets

Closed

Les bruyeres

Closed

La julienne

Closed

Raquettes - désert d'entremont

Ourson

Closed

Col du mollard

Closed

La pointiere

Closed

Grand carroz

Closed

Pointe de la cochette

Closed

Mise à jour : 13 mars 2023 - 17:42

Lièvre

1 km

Opened

Lynx

1 km

Opened

Bouquetin

3 km

Closed

La bêcherie

9 km

Closed

Liaison col de porte - st hugues

8 km

Closed

Chamois

5 km

Closed

Route du charmant som

6 km

Closed

Boucle col de porte

3 km

Closed

Boucle des chaumes

1 km

Closed

Piste de luge - col de porte

Closed

Planibert

2 km

Closed

Les sagnes

2 km

Closed

Les combes

4 km

Closed

Saint eynard

9 km

Closed

Sire mouton

6 km

Closed

Pale de fer

9 km

Closed

L'ecoutoux

3 km

Closed

Liaison sappey - col de porte

6 km

Closed

Emeindras du dessus

8 km

Closed

Balcon de roche rousse

5 km

Closed

Monjalat

3 km

Closed

Le vivier

2 km

Closed

Stade de neige

1 km

Closed

Cherlieu

6 km

Closed

Le buissonnet

9 km

Closed

Liaison st hugues - l'emeindras

16 km

Closed

Liaison st hugues - col de porte

7 km

Closed

La perelle

10 km

Closed

Plateau des essarts

1 km

Closed

Les essarts depuis le village

5 km

Closed

Jonction la diat - village

Closed

Forêt de l'océpé

15 km

Closed

Col du coq

12 km

Closed

Bois du coleau

5 km

Closed

Plateau de flin

6 km

Closed

Pierre mesure

9 km

Closed

Chapelle du rosaire

2 km

Closed

Piste de luge - st hugues

Closed

Mise à jour : 13 mars 2023 - 16:09

Prairie des riondettes (piste bleue)

5 km

Closed

Piste rouge

8 km

Closed

Piste jaune

7 km

Closed

Prairie d'arpison (piste noire)

15 km

Closed

La pointe du frou (raquettes 1)

4 km

Opened

Col de la ruchère (raquettes 3)

9 km

Opened

Tour des riondettes (raquettes 2)

7 km

Opened

Belvédère d'arpizon (raquettes 4)

13 km

Opened

Mise à jour : 19 février 2023 - 09:09

Mise à jour : 09 mars 2023 - 18:45
En live

Piste de luge bruyeres

Closed

Piste de luge mollard

Closed

Eterlou

2 km

Closed

Piste de liaison

Closed

Les pres

3 km

Closed

La pointiere

4 km

Closed

ChevÊche

2 km

Closed

Pipistrelle

1 km

Closed

Ourson

Closed

Les marots

3 km

Closed

Outheran

6 km

Closed

Montfred

13 km

Closed

Fil-neige

Closed

Les nantets

Closed

Les bruyeres

Closed

La julienne

Closed

Raquettes - désert d'entremont

Ourson

Closed

Col du mollard

Closed

La pointiere

Closed

Grand carroz

Closed

Pointe de la cochette

Closed

Mise à jour : 13 mars 2023 - 17:42

Lièvre

1 km

Opened

Lynx

1 km

Opened

Bouquetin

3 km

Closed

La bêcherie

9 km

Closed

Liaison col de porte - st hugues

8 km

Closed

Chamois

5 km

Closed

Route du charmant som

6 km

Closed

Boucle col de porte

3 km

Closed

Boucle des chaumes

1 km

Closed

Piste de luge - col de porte

Closed

Planibert

2 km

Closed

Les sagnes

2 km

Closed

Les combes

4 km

Closed

Saint eynard

9 km

Closed

Sire mouton

6 km

Closed

Pale de fer

9 km

Closed

L'ecoutoux

3 km

Closed

Liaison sappey - col de porte

6 km

Closed

Emeindras du dessus

8 km

Closed

Balcon de roche rousse

5 km

Closed

Monjalat

3 km

Closed

Le vivier

2 km

Closed

Stade de neige

1 km

Closed

Cherlieu

6 km

Closed

Le buissonnet

9 km

Closed

Liaison st hugues - l'emeindras

16 km

Closed

Liaison st hugues - col de porte

7 km

Closed

La perelle

10 km

Closed

Plateau des essarts

1 km

Closed

Les essarts depuis le village

5 km

Closed

Jonction la diat - village

Closed

Forêt de l'océpé

15 km

Closed

Col du coq

12 km

Closed

Bois du coleau

5 km

Closed

Plateau de flin

6 km

Closed

Pierre mesure

9 km

Closed

Chapelle du rosaire

2 km

Closed

Piste de luge - st hugues

Closed

Mise à jour : 13 mars 2023 - 16:09

Prairie des riondettes (piste bleue)

5 km

Closed

Piste rouge

8 km

Closed

Piste jaune

7 km

Closed

Prairie d'arpison (piste noire)

15 km

Closed

La pointe du frou (raquettes 1)

4 km

Opened

Col de la ruchère (raquettes 3)

9 km

Opened

Tour des riondettes (raquettes 2)

7 km

Opened

Belvédère d'arpizon (raquettes 4)

13 km

Opened

Mise à jour : 19 février 2023 - 09:09

Mise à jour : 09 mars 2023 - 18:45