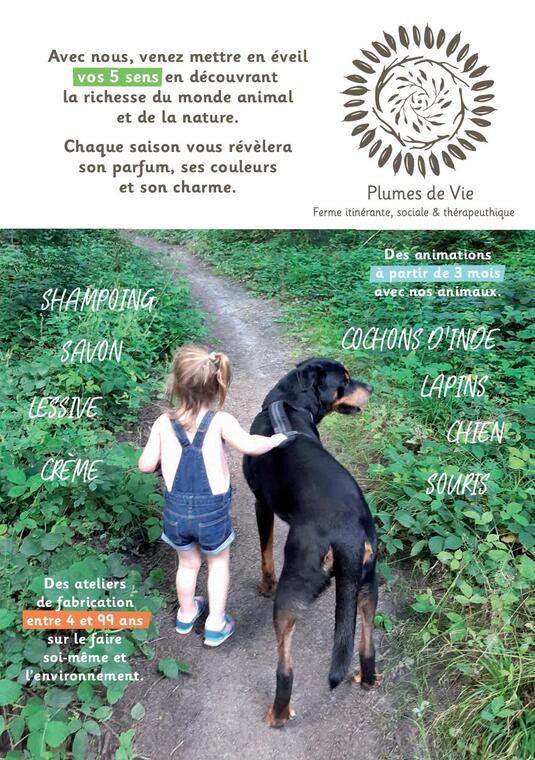 Animation zoothérapie
Accompanied,
Environment
in Saint-Laurent-du-Pont
Plumes de vie invites you to experience a moment of gentleness and peace in the company of its animals. With us, come and awaken your 5 senses by discovering the richness of the animal world.

Feathers of Life was inspired by Boris Levinson, the originator of pet therapy:
"The animal does not feed on idealized expectations of humans, they accept them for what they are not for what they should be".
Open from 3 months old, accompanying person required before 6 years old.
From

October 7, 2022

to

December 9, 2022
On

October 7, 2022

On

October 12, 2022

On

November 1, 2022

On

November 9, 2022

On

November 17, 2022

On

November 30, 2022

On

December 9, 2022
Friday

10:00 AM - 11:00 AM
Wednesday

3:30 PM - 4:30 PM
Tuesday

10:30 AM - 11:30 AM
Wednesday

3:30 PM - 4:30 PM
Thursday

3:30 PM - 4:30 PM
Wednesday

3:30 PM - 4:30 PM
En live

Piste de liaison

Closed

Eterlou

2 km

Closed

Les pres

3 km

Closed

La pointiere

4 km

Closed

Ourson

Closed

ChevÊche

2 km

Closed

Pipistrelle

1 km

Closed

Les marots

3 km

Closed

Les plaines

3 km

Closed

Outheran

6 km

Closed

Montfred

13 km

Closed

Raquettes - désert d'entremont

Ourson

Closed

La pointiere

Closed

Col du mollard

Closed

Pointe de la cochette

Closed

Grand carroz

Closed

Piste de luge bruyeres

Closed

Piste de luge mollard

Closed

Mise à jour : 29 novembre 2022 - 11:31

Lièvre

1 km

Closed

Lynx

1 km

Closed

Bouquetin

3 km

Closed

La bêcherie

9 km

Closed

Liaison col de porte - st hugues

8 km

Closed

Chamois

5 km

Closed

Route du charmant som

6 km

Closed

Boucle col de porte

3 km

Closed

Boucle des chaumes

1 km

Closed

Piste de luge - col de porte

Closed

Planibert

2 km

Closed

Les sagnes

2 km

Closed

Les combes

4 km

Closed

Saint eynard

9 km

Closed

Sire mouton

6 km

Closed

Pale de fer

9 km

Closed

L'ecoutoux

3 km

Closed

Liaison sappey - col de porte

6 km

Closed

Emeindras du dessus

8 km

Closed

Balcon de roche rousse

5 km

Closed

Monjalat

3 km

Closed

Mise à jour : 29 novembre 2022 - 17:31

Prairie des riondettes (piste bleue)

5 km

Opened

Piste rouge

8 km

Opened

Piste jaune

7 km

Opened

Prairie d'arpison (piste noire)

15 km

Opened

La pointe du frou (raquettes 1)

4 km

Opened

Col de la ruchère (raquettes 3)

9 km

Opened

Tour des riondettes (raquettes 2)

7 km

Opened

Belvédère d'arpizon (raquettes 4)

13 km

Opened

Mise à jour : 05 septembre 2022 - 16:54

Mise à jour : 23 novembre 2022 - 11:32
En live

Piste de liaison

Closed

Eterlou

2 km

Closed

Les pres

3 km

Closed

La pointiere

4 km

Closed

Ourson

Closed

ChevÊche

2 km

Closed

Pipistrelle

1 km

Closed

Les marots

3 km

Closed

Les plaines

3 km

Closed

Outheran

6 km

Closed

Montfred

13 km

Closed

Raquettes - désert d'entremont

Ourson

Closed

La pointiere

Closed

Col du mollard

Closed

Pointe de la cochette

Closed

Grand carroz

Closed

Piste de luge bruyeres

Closed

Piste de luge mollard

Closed

Mise à jour : 29 novembre 2022 - 11:31

Lièvre

1 km

Closed

Lynx

1 km

Closed

Bouquetin

3 km

Closed

La bêcherie

9 km

Closed

Liaison col de porte - st hugues

8 km

Closed

Chamois

5 km

Closed

Route du charmant som

6 km

Closed

Boucle col de porte

3 km

Closed

Boucle des chaumes

1 km

Closed

Piste de luge - col de porte

Closed

Planibert

2 km

Closed

Les sagnes

2 km

Closed

Les combes

4 km

Closed

Saint eynard

9 km

Closed

Sire mouton

6 km

Closed

Pale de fer

9 km

Closed

L'ecoutoux

3 km

Closed

Liaison sappey - col de porte

6 km

Closed

Emeindras du dessus

8 km

Closed

Balcon de roche rousse

5 km

Closed

Monjalat

3 km

Closed

Mise à jour : 29 novembre 2022 - 17:31

Prairie des riondettes (piste bleue)

5 km

Opened

Piste rouge

8 km

Opened

Piste jaune

7 km

Opened

Prairie d'arpison (piste noire)

15 km

Opened

La pointe du frou (raquettes 1)

4 km

Opened

Col de la ruchère (raquettes 3)

9 km

Opened

Tour des riondettes (raquettes 2)

7 km

Opened

Belvédère d'arpizon (raquettes 4)

13 km

Opened

Mise à jour : 05 septembre 2022 - 16:54

Mise à jour : 23 novembre 2022 - 11:32