In winter, it has the particularity of becoming a village-resort thanks to the cable cars which, from the heart of the village, transport you to the slopes of the Coeur de Chartreuse ski area.
The ski resort
Largest ski resort in the Chartreuse massif, St Pierre is nonetheless a medium-sized resort. If it's big resort vibe and innovation that you are looking for, this is not the place you should come. Here you will find a resort on a human scale, simple and friendly, with magnificent views of the surrounding peaks, you will not find these landscapes anywhere else.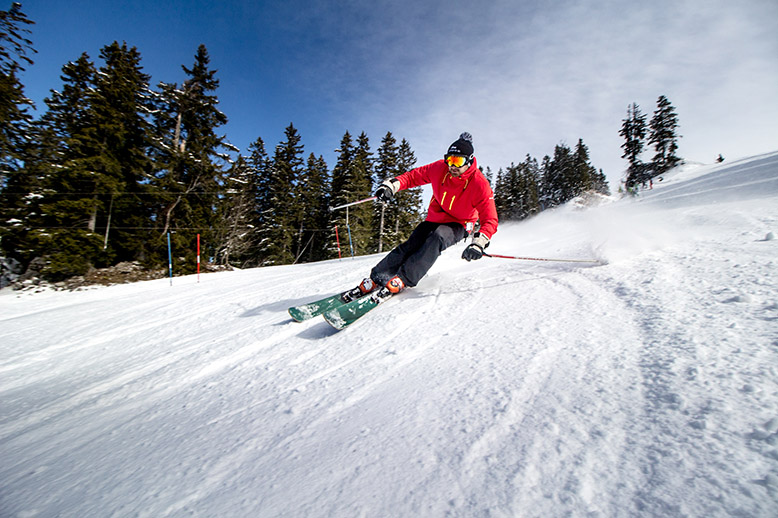 The nordic skiing area
Do you like skiing but have never tried nordic ski? Open the door of the nordic skiing area to start in complete safety. Training on the basics of the activity, how to equip yourself, what are the safety principles, how to make a conversion (change of direction in ski touring),… Passionate professionals are at your disposal to help you climb summits and descend the most beautiful slopes!
Balneotherapy
Is it cold, snowflakes falling on the village? The perfect time to take a good bath… outside! Like the Scandinavian countries, try the open-air Nordic baths of Oréade Balnéo. Heated to 38 ° over a wood fire, you won't get cold. Unless you play the game to the end and you'll jump into the snow! Benefits for the body (and mind) guaranteed!
St Hugues: village within the village
St Hugues is a hamlet of St Pierre de Chartreuse but it could well be a village in its own right with its church, restaurants and pretty houses. Moreover, its church houses an astonishing Museum of Contemporary Sacred Art!
It is also a very small ski resort (Les Egaux) which has the originality of being managed by volunteers, and a Nordic site whose slopes are linked to those of the Col de Porte.