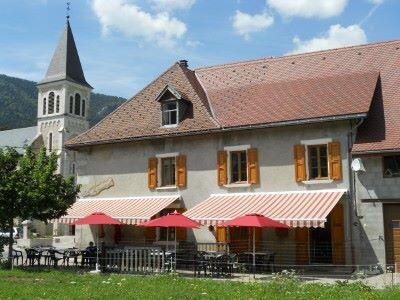 Le Chamechaude
Restaurant,
offers dishes "homemade",
Traditional cooking
in Saint-Pierre-de-Chartreuse
Located in the heart of St Hugues, the team of the restaurant le Chamechaude offers you a family and local cuisine. From the shaded terrace, you can enjoy the exceptional view of the mountains for a meal in harmony with nature.

You will taste, fondue with boletus, sugar pie and blueberry pie home made by a team of enthusiasts.
Environment

Mountain view

Mountain location

Bottom of slopes

Capacity

People :

55 place setting

People :

45 Dining tables outside

Spoken languages
Accessibility

Accessible for wheelchairs with assistance
Even flooring with no obstacles
Minimum aisle width of 90 cm
Site, building totally accessible

Equipment

Terrace
Toilets
Car park
Restaurant

Baby chair
Cloakroom
Changing table

Services

Pets welcome
Tourist brochures

Restaurant
Restaurant for children
Openings

All year 2023

Open

On Monday

,

On Tuesday

,

On Wednesday

,

On Thursday

,

On Friday

,

On Sunday
En live

Piste de luge bruyeres

Closed

Piste de luge mollard

Closed

Eterlou

2 km

Closed

Piste de liaison

Closed

Les pres

3 km

Closed

La pointiere

4 km

Closed

ChevÊche

2 km

Closed

Pipistrelle

1 km

Closed

Ourson

Closed

Les marots

3 km

Closed

Outheran

6 km

Closed

Montfred

13 km

Closed

Fil-neige

Closed

Les nantets

Closed

Les bruyeres

Closed

La julienne

Closed

Raquettes - désert d'entremont

Ourson

Closed

Col du mollard

Closed

La pointiere

Closed

Grand carroz

Closed

Pointe de la cochette

Closed

Mise à jour : 13 mars 2023 - 17:42

Lièvre

1 km

Opened

Lynx

1 km

Opened

Bouquetin

3 km

Closed

La bêcherie

9 km

Closed

Liaison col de porte - st hugues

8 km

Closed

Chamois

5 km

Closed

Route du charmant som

6 km

Closed

Boucle col de porte

3 km

Closed

Boucle des chaumes

1 km

Closed

Piste de luge - col de porte

Closed

Planibert

2 km

Closed

Les sagnes

2 km

Closed

Les combes

4 km

Closed

Saint eynard

9 km

Closed

Sire mouton

6 km

Closed

Pale de fer

9 km

Closed

L'ecoutoux

3 km

Closed

Liaison sappey - col de porte

6 km

Closed

Emeindras du dessus

8 km

Closed

Balcon de roche rousse

5 km

Closed

Monjalat

3 km

Closed

Le vivier

2 km

Closed

Stade de neige

1 km

Closed

Cherlieu

6 km

Closed

Le buissonnet

9 km

Closed

Liaison st hugues - l'emeindras

16 km

Closed

Liaison st hugues - col de porte

7 km

Closed

La perelle

10 km

Closed

Plateau des essarts

1 km

Closed

Les essarts depuis le village

5 km

Closed

Jonction la diat - village

Closed

Forêt de l'océpé

15 km

Closed

Col du coq

12 km

Closed

Bois du coleau

5 km

Closed

Plateau de flin

6 km

Closed

Pierre mesure

9 km

Closed

Chapelle du rosaire

2 km

Closed

Piste de luge - st hugues

Closed

Mise à jour : 13 mars 2023 - 16:09

Prairie des riondettes (piste bleue)

5 km

Closed

Piste rouge

8 km

Closed

Piste jaune

7 km

Closed

Prairie d'arpison (piste noire)

15 km

Closed

La pointe du frou (raquettes 1)

4 km

Opened

Col de la ruchère (raquettes 3)

9 km

Opened

Tour des riondettes (raquettes 2)

7 km

Opened

Belvédère d'arpizon (raquettes 4)

13 km

Opened

Mise à jour : 19 février 2023 - 09:09

Mise à jour : 09 mars 2023 - 18:45
En live

Piste de luge bruyeres

Closed

Piste de luge mollard

Closed

Eterlou

2 km

Closed

Piste de liaison

Closed

Les pres

3 km

Closed

La pointiere

4 km

Closed

ChevÊche

2 km

Closed

Pipistrelle

1 km

Closed

Ourson

Closed

Les marots

3 km

Closed

Outheran

6 km

Closed

Montfred

13 km

Closed

Fil-neige

Closed

Les nantets

Closed

Les bruyeres

Closed

La julienne

Closed

Raquettes - désert d'entremont

Ourson

Closed

Col du mollard

Closed

La pointiere

Closed

Grand carroz

Closed

Pointe de la cochette

Closed

Mise à jour : 13 mars 2023 - 17:42

Lièvre

1 km

Opened

Lynx

1 km

Opened

Bouquetin

3 km

Closed

La bêcherie

9 km

Closed

Liaison col de porte - st hugues

8 km

Closed

Chamois

5 km

Closed

Route du charmant som

6 km

Closed

Boucle col de porte

3 km

Closed

Boucle des chaumes

1 km

Closed

Piste de luge - col de porte

Closed

Planibert

2 km

Closed

Les sagnes

2 km

Closed

Les combes

4 km

Closed

Saint eynard

9 km

Closed

Sire mouton

6 km

Closed

Pale de fer

9 km

Closed

L'ecoutoux

3 km

Closed

Liaison sappey - col de porte

6 km

Closed

Emeindras du dessus

8 km

Closed

Balcon de roche rousse

5 km

Closed

Monjalat

3 km

Closed

Le vivier

2 km

Closed

Stade de neige

1 km

Closed

Cherlieu

6 km

Closed

Le buissonnet

9 km

Closed

Liaison st hugues - l'emeindras

16 km

Closed

Liaison st hugues - col de porte

7 km

Closed

La perelle

10 km

Closed

Plateau des essarts

1 km

Closed

Les essarts depuis le village

5 km

Closed

Jonction la diat - village

Closed

Forêt de l'océpé

15 km

Closed

Col du coq

12 km

Closed

Bois du coleau

5 km

Closed

Plateau de flin

6 km

Closed

Pierre mesure

9 km

Closed

Chapelle du rosaire

2 km

Closed

Piste de luge - st hugues

Closed

Mise à jour : 13 mars 2023 - 16:09

Prairie des riondettes (piste bleue)

5 km

Closed

Piste rouge

8 km

Closed

Piste jaune

7 km

Closed

Prairie d'arpison (piste noire)

15 km

Closed

La pointe du frou (raquettes 1)

4 km

Opened

Col de la ruchère (raquettes 3)

9 km

Opened

Tour des riondettes (raquettes 2)

7 km

Opened

Belvédère d'arpizon (raquettes 4)

13 km

Opened

Mise à jour : 19 février 2023 - 09:09

Mise à jour : 09 mars 2023 - 18:45